Come and join us in our social lab
---
Heart­work
+ Fiona Ross — The Trea­sury Chief Oper­at­ing Offi­cer
+ David Dougher­ty — The Trea­sury Man­ag­er Strat­e­gy and Per­for­mance
+ 24 curi­ous and cre­ative peo­ple at The Trea­sury
have been exper­i­ment­ing in the social lab.
We've been play­ing and rapid­ly pro­to­typ­ing with the Heart­work Well­be­ing Card Game* — now avail­able pub­licly.
We've been explor­ing how to fos­ter the capa­bil­i­ties of sys­tem-lead­er­ship (qual­i­ties like aware­ness of self and oth­ers, empa­thy, mir­ror­ing, per­spec­tive-tak­ing, gen­er­a­tive lis­ten­ing and com­mu­ni­ca­tion), and col­lec­tive­ly ask­ing the ques­tion:
Togeth­er we've been using the Heart­work Well­be­ing Card Game* — devel­oped by Heart­work, as a tool to make it eas­i­er to learn and prac­tice these skills at work.
We've cre­at­ed a "com­pas­sion starter cul­ture" — a net­work of peo­ple who want to cre­ate a more com­pas­sion­ate cul­ture in Aotearoa, start­ing where we are — in our work­places.
We don't have all the answers. And we can't do this mahi alone.

So we'd like to invite you into this social lab.
So we can grow an even more beau­ti­ful, and more resilient strain togeth­er.
We'll share what we're learn­ing while we're still metabolis­ing.
Come along to:
Hear from Fiona Ross about what she's been learn­ing from her exper­i­ments with the Heart­work cards in her work as Chief Oper­at­ing Offi­cer of the Trea­sury.
Meet the Heart­work team and under­stand the poten­tial they see for peo­ple to be 1) meet­ing their own needs 2) meet­ing each oth­ers' needs and 3) cre­at­ing more delight­ful out­comes togeth­er with Aotearoa.
Learn at least three pow­er­ful ways you can use the Heart­work cards to cul­ti­vate a 'win-win-win' cul­ture for Aotearoa, your teams and your­self.
Play the card game and share sto­ries with oth­er peo­ple who care deeply about peo­ple.
Con­nect with oth­er peo­ple who want to grow sys­tem-lead­er­ship skills and cul­ti­vate com­pas­sion through­out Aotearoa.
Con­tribute ideas and co-cre­ate with us as we con­sid­er how to take this kau­pa­pa for­ward togeth­er.
Watch our video about the card game here.

The cards are a real­ly good way to recog­nise what you need to do to end up with pos­i­tive out­comes. After using them I felt more com­plete, cer­tain of what [the oth­er person's] feel­ings and needs were, and was able to come up with dif­fer­ent strate­gies to find solu­tions for neg­a­tive feel­ings I was hav­ing.

- Pen­ny
Before hav­ing [a] chat I used the cards to check in on what I want­ed to feel and not feel, and what I want­ed them to feel and not feel. This real­ly helped me iden­ti­fy my needs and what I want­ed out of the con­ver­sa­tions- which then helped me put togeth­er a real­ly quick plan. And it took 5 mins tops. So I went in more pre­pared emo­tion­al­ly as well as intel­lec­tu­al­ly; and being more inten­tion­al is a work-on for me.

As a result I feel the con­ver­sa­tion went well and I am more con­fi­dent in my deci­sion and the rea­sons for it…

- Sam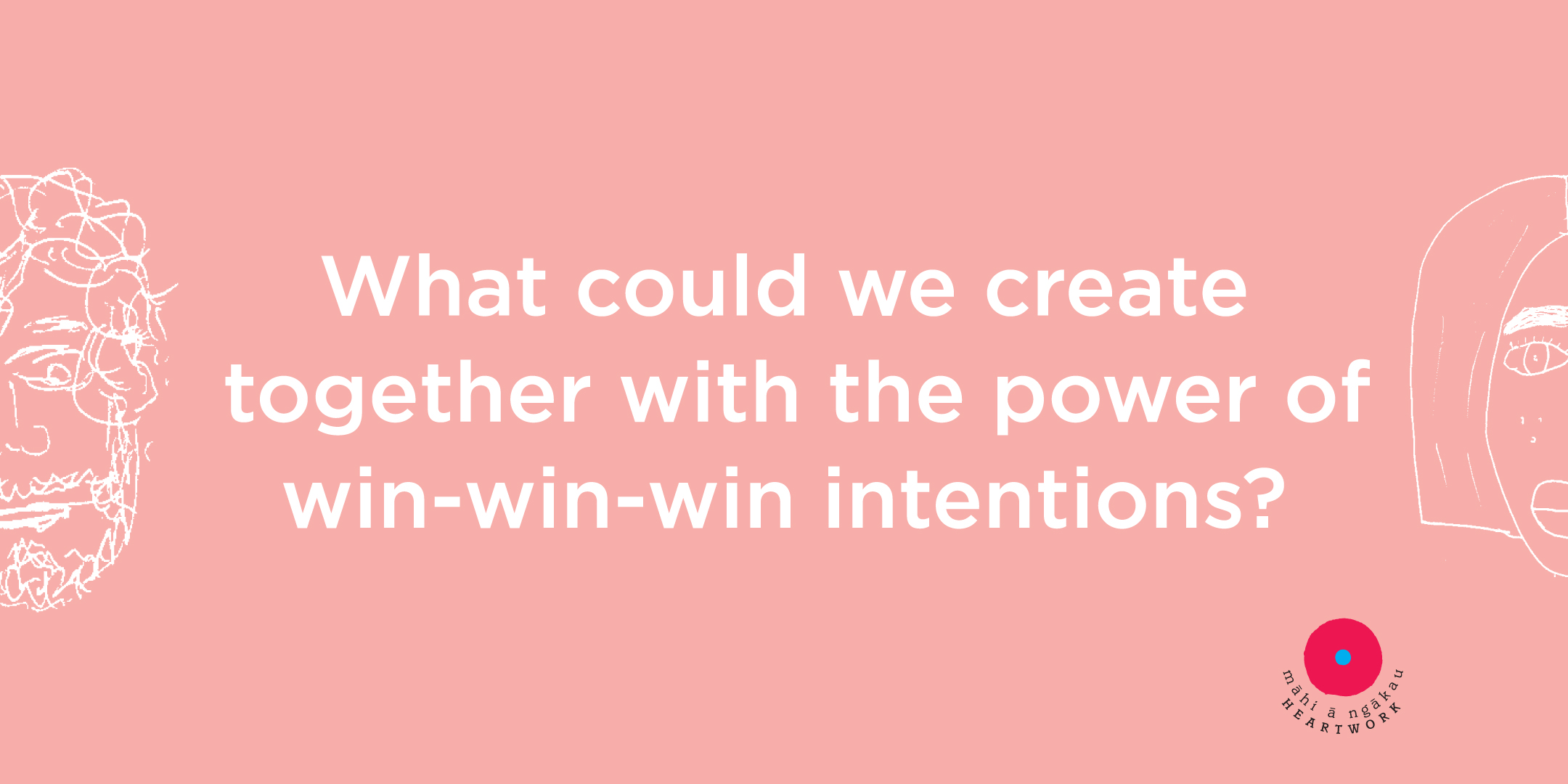 *win-win-win: good for you, good for oth­ers in your organ­i­sa­tion, and good for soci­ety as a whole.
Wednes­day 17 April, 4:45 — 7 pm
The Trea­sury, 3 The Ter­race, Welling­ton